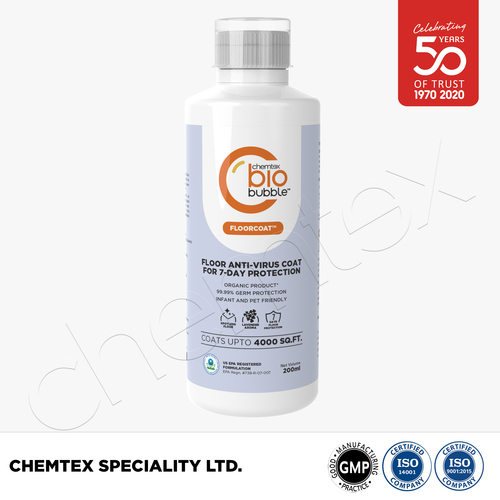 Chemtex BioBubble FloorCoat
Price And Quantity
Product Specifications
Floor Disinfection

2 Years
Product Description
Based on retentive TMS-QAC (TrimethoxySilyl Quaternary Ammonium Compound) technology, BIOBUBBLE FLOORCOAT after application on floors, provides complete protection against all types of bacteria, viruses, spores and other surface borne pathogens for up to 7 days with more than 99.9% proven efficacy.

It is an organic chlorine free product which leaves a refreshing lavender fragrance on application without leaving behind any kind of toxic residue over the floor surfaces.

Application Areas: Marble, Granite, Epoxy Tile, Laminated Floor, Vinyl, Stone, and Vitrified Tiles. Not to be used on Hard Wood and Carpeted Floor
Can be considered as an excellent replacement for ordinary floor cleaners, application of CHEMTEX BIOBUBBLE FLOORCOAT costs only 5 paisa / sq.ft. It builds a transparent sub-microscopic coating which acts as a barrier to defend microbial activity. The positive charges attract the negatively charged cell membranes of the pathogens, puncturing, auto-lysing and disrupting their life cycle.


Key Features and Benefits:
Preventive Antivirus Coating, effective up to 7 days on each use
Creates a strong durable bond with the floor surface
100% organic formulation
Free from , such as fluorine, PBT & vPvB-substances
Non-Toxic and Completely Biodegradable
Non-Corrosive
Leaves no spots post application
Cost effective owing to its application once after7 days
Refreshing fragrance