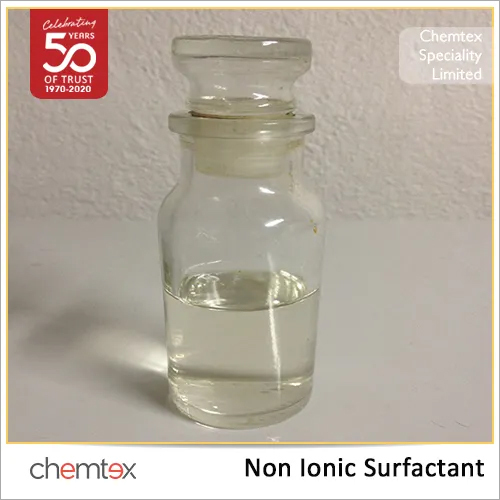 Non Ionic Surfactant
Price And Quantity
Product Specifications
Product Description
Chemtex Speciality Limited manufactures a range of surfactant chemicals that decrease the surface tension (or interfacial pressure) between two fluid medium or between a liquid and a solid.
Surfactants may be grouped as
• Wetting agents
• Cleansers
• Emulsifiers
• Frothing agents
• Fispersants

Surfactants are grouped by their hydrophilic groups: Non Ionic Surfactant, Anionic Surfactant, Cationic Surfactant and Amphoteric Surfactant. They are administered to expel dirt from skin, garments and household items especially in kitchens and bathrooms.

Non Ionic Surfactant include may long chain alcohols exhibiting surfactant properties; prominent among these being cetyl alcohol, stearyl alcohol, fatty alcohols, oleyl alcohol, etc. It finds use in the formulation of high performance cleaners and detergents, paper and textile processing, paints and coatings, agrochemicals, etc.
Trade Information
Yes

Free samples are available